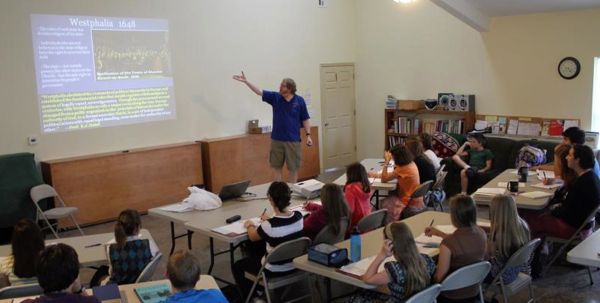 Join Coach Vance Trefethen and his debate partner Mr. Rob Parks for team-policy debate training over Labor Day Weekend, 2018
Registration Is Open!
Vance Trefethen will host 22 students at his home in North Carolina over Labor Day Weekend, August 30-September 3. Register to reserve your slot.
NOTE: Payments are due within 14 days of registration.
When:
Camp Dates: August 30 - September 3, 2018
Debate Training for 2018-2019 Policy Debate Competition
What:
Debate training for Stoa and NCFCA policy debate resolutions. Debaters will begin with a thorough lecture on the year's resolution, then follow with workshops and lectures on strategic policy debating.
Where:
The home of Vance and Bridget Trefethen.
Monroe, NC
Registrants will be emailed address and directions upon completion of their registration.
Why:
Are you aspiring to a successful competitive Season 19 (2018-2019)? Coach Vance has been preparing students for speech and debate competition since 1998—and quite successfully, too. Be sure to secure one of the cherished slots at Coach Vance's Policy Debate Camp in North Carolina.
How:
Information links are to the left to help plan your trip accordingly. Click Camper Registration to start the registration process. We'll get you slotted into place.
If you have questions not answered on this registration site, you may send Vance an email at coachvance@gmail.com.
Warning: There are only 12 slots for the camp, and a limited number of slots for the housing. Once full, we will need to shut the registration off. However, do sign up for the waiting list, for drops do happen and may open up a slot for you.
See you soon in North Carolina for debate training!