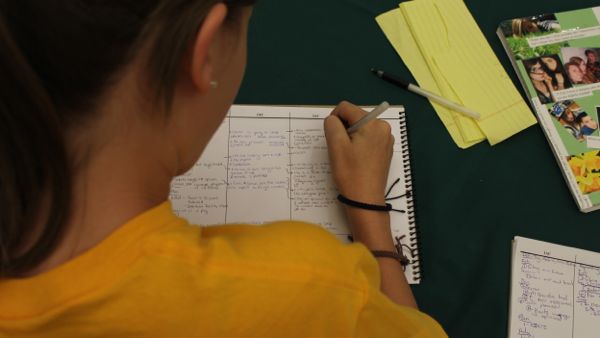 At camp, you learn the skills that bring champions to final rounds, time and time again.
Are you set to come to camp? This page is for you. You likely have questions about your stay, and chances are good that this page has answers for you.
Check In
We will be checking people in from 5:30-6:00pm at the Trefethen home. Directions will be emailed to you when you register.
At check-in, you will be given a schedule, name tag, your resources, and other supplies for your camp experience. Those staying at the Trefethens, please come early enough to check in and get settled, giving yourself at least 20 minutes to get your belongings in place. The program starts a 6pm with topic lectures on the resolutions.
What to Bring: All Campers
All campers should come ready to learn and have fun. Here's a list of items to consider bringing to camp:
Your computer. There is internet access, but we strictly prohibit gaming.
Note-taking materials like pens, paper, notebooks. iPads are allowed.
Label your materials and keep them in an identifiable backpack or carry bag.
Cell phone to keep connected with mom/dad at home.
Rules and Guidelines for Camp
We require you abide to rules that will help make your camp experience wonderful for yourself and everyone in attendance:
Video or audio taping of the sessions is prohibited. Bring your best note-taking skills and come ready to learn a ton.
Modest attire is required. Tournament attire is NOT required nor expected.
Gaming on computers or phones is strictly prohibited and is a disciplinary action.
There will be announcements at camp explaining the boundaries and rules of the venue, and campers are expected to follow these announcements.
Students are expected to abide to the set schedule and agenda laid out by the camp directors, and veering from that agenda may be considered a disciplinary offense.
We're out to make this a fantastic experience for you. If you have any questions, email coachvance@gmail.com.